Is your Pyle amplifier having issues with connecting to Bluetooth? You're not alone. In this guide, we'll explore some common issues and solutions to get your amplifier smoothly paired with your devices. Whether it's a power-saving feature or a more complex hardware problem, we've got you covered.
Without further ado, let's get into it.
The Basic Checks
If this is the first time you are attempting to connect with the amplifier, ensure that your phone or tablet is Bluetooth-enabled.
Press the Mode button on the amplifier's front panel to select Bluetooth mode. When you first turn on your Pyle amplifier, the mode is set to USB/SD by default. Keep pressing the mode button until the display screen shows 'Bluetooth.'
Turn on Bluetooth on your connecting device and ensure that the device is discoverable.
Look for 'PyleUSA,' the amplifier's model name in the Bluetooth list of your connecting device.
The Bluetooth connection will be successful when your Pyle amplifier produces a sound and the display screen shows 'Bluetooth connected.'
Please note that if the connection isn't successful, consider un-pairing your device and repeat the steps above.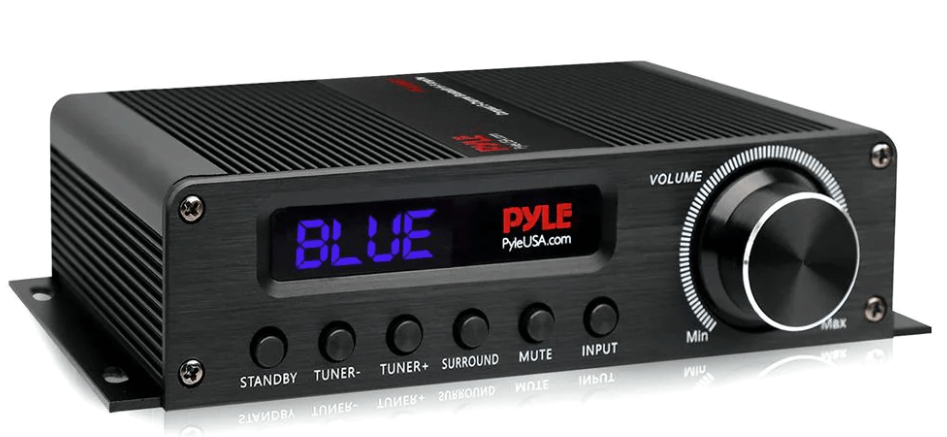 Check The Connected Device
If your Pyle amplifier isn't connecting to a device after multiple attempts, check the power settings of your connecting device, especially if the connecting device is a smartphone or a tablet.
🪫 If the battery level of the connecting device is low, the smart power management feature in these smart devices turns off the Bluetooth for power saving.
🔋 Ensure that the device you are trying to connect your Pyle amplifier through Bluetooth has enough battery for a successful connection.
If you're still experiencing issues go to the next step.
Connect to a different device
Try connecting your phone to a different BT device – earbuds or headphones for example. This will provide an indication if you have issues with BT connectivity on your phone.
As a next step try connecting a different phone to your amplifier. If that worked then that isolates the problem to your phone. Make sure your phone is updated to the latest software version. Sometimes a firmware or software update is required to ensure proper device functioning.
Note that Pyle amplifiers use BT version 4.0. Older phones which use version 3 or earlier of Bluetooth might not be compatible with it.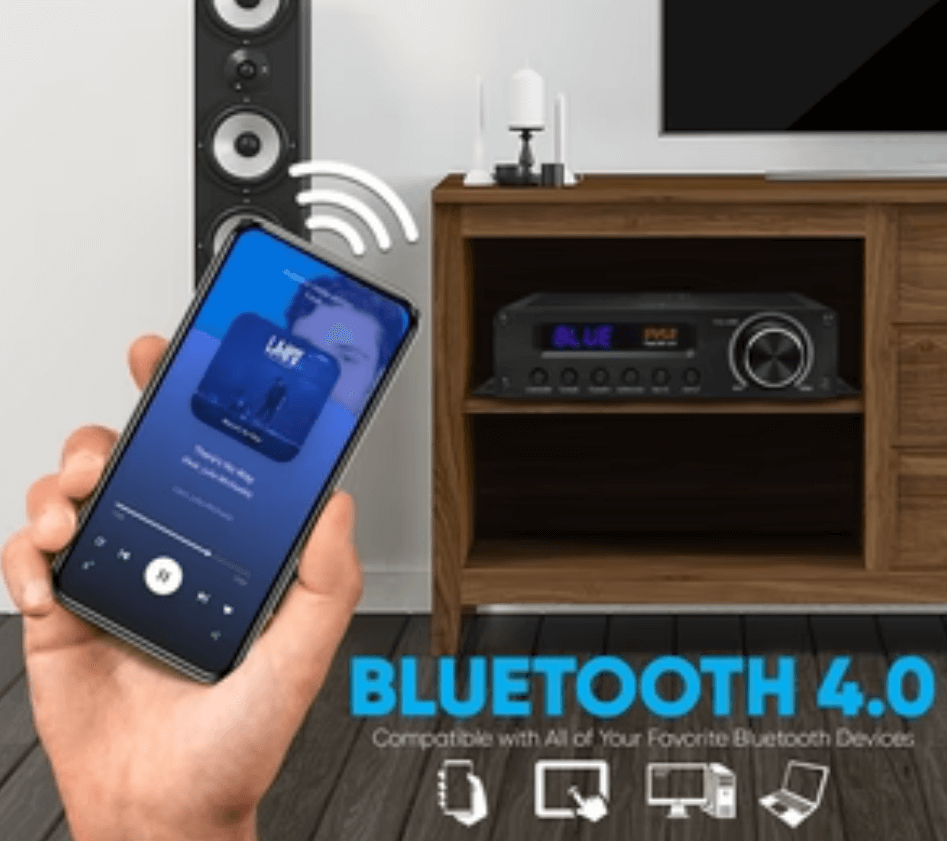 Power Cycle Your Amp
If your connecting device is sufficiently charged, the next step is to power cycle your Pyle amplifier. For this purpose:
Disconnect the power cord from the socket.
Allow a minimum of 30 minutes to pass.
If feasible, press and hold the power button for 10 seconds.
This process will resolve the issue as it has already helped multiple users.
Bluetooth Range
The Pyle Amplifier uses an older version of Bluetooth Version 4.0. The best range is 100 meters.
The indoor range however can be significantly impacted by radio interference from other wireless devices such as 802.11 Wi-Fi Access Points. This interference can cause drop outs or loss of Bluetooth connectivity.
One solution is to physically separate the Wireless hotspot from the vicinity of the amplifier. The separation reduces interference from Wi-Fi to Bluetooth. At the same time reduce the distance from your phone to the amplifier. This will improve the Bluetooth RSSI (Received Signal Strength Indicator) and will therefore enhance the reliability of the BT link.
Note that while changing Wi-Fi channels reduces interference from one Access Point to another, it does not reduce the impact to BT. Therefore changing channels is not a solution.
A second solution is to change the operating frequency band from 2.4 GHz to the 5 GHz band only. Although this will mean that Wi-Fi devices (often older ones) that are only able to operate at 2.4 GHz will not be able to connect to Wi-Fi.
Contact a Repair Shop
If the solutions mentioned above didn't work, the problem is probably due to an internal hardware issue, which may signify a problem with a component within the device. It is likely attributed to the quality of materials used, frequent power events, or simply regular device usage.
We suggest first contacting customer care especially if your device is still under warranty.
The electronics that provides BT connectivity takes the form of an internal module. It might be that this module has to be replaced entirely or there's an issue with the antenna for instance. It's very difficult to debug these issues without a degree or practical experience in electronics. Opening the hardware will void your warranty so we don't suggest a DIY approach unless you're past your warranty period and have electronics expertise.
Summary
When your Pyle amplifier encounters Bluetooth connectivity problems, the basic troubleshooting steps often provide the key to a quick solution.
By addressing power settings, power cycling and ensuring you follow the correct pairing process, these issues can usually be overcome. However, if these steps don't do the trick, it might point to an underlying hardware problem. In such cases, don't hesitate to contact customer support or seek assistance from a local repair service.
Related Troubleshooting Posts