I'm very reliant on the Bluetooth in my car. So much so that I can't imagine how things were before the technology was introduced!
My buddy Dave was having an issue with the Bluetooth connection in his Honda.
Since I'm a wireless engineer who enjoys problem solving 🤓 I decided to give him a hand. I must admit, it wasn't an easy fix this time. After some of the basic things didn't work, I had to do plenty of research online to solve the problem.
The good news is that I was able to solve Dave's Bluetooth issue and he's happy to be up and running again.
In this post, I've documented tips and things that others did to solve their problem. Starting with the simple steps, the article dives into more complex procedures.
Without further ado, let's get into the details.
[ez-toc]
Basic Troubleshooting
Use Honda's Handsfreelink Compatibility guide to first determine whether your phone is compatible with your Honda.
Is Bluetooth on your phone working? Try connecting your phone to wireless earbuds or any other audio output device to confirm this.
Ensure your phone is in Discoverable mode. As the name suggests, this enables the car Bluetooth system to find the phone.
Ensure the Wi-Fi on your Honda multimedia system is turned Off. Wi-Fi can cause interference with the Bluetooth signal when trying to pair. As well turn Wi-Fi on your phone Off. Wi-fi signals operate in the same 2.4 GHz frequency band as Bluetooth and they are stronger [1]
Turn your car Off and then Restart it.
Re-start your Phone.
Un-pair and then pair your device again to Bluetooth.
Device with low battery and device with low signal can also result in poor connectivity so make sure your phone is either charged or plugged in.
If you are using Android Auto/Apple Carplay, ensure it is turned on in both your phone as well as the car.
If these steps did not resolve the issue, let's move on to other troubleshooting steps.
Delete Paired Devices
If your Honda is used by others in your family or a friend (for instance) has been riding with you, there might be a number of phones that have connected with your Honda's Bluetooth wireless system.
The car's infotainment system remembers all these connections. It's much easier this way for any device to reconnect without manual intervention.
As a result of this any phone that was once connected will connect automatically again. However it may not be the phone you want connected.
To resolve this, delete unused paired devices from the Honda's Bluetooth list.
Follow the steps below (also shown in this video):
Select the phone icon from the display screen of your car's infotainment system.
Next, select Settings and touch Change connected phones.
Select the device to be deleted and touch Delete Device.
Select Delete to confirm.
Repeat the steps for all paired devices and delete them individually.
Note that the above steps are applicable when deleting paired devices from Honda LCD audio models.
If the above steps don't work for you, follow the steps below:
Turn off your head unit using the power button and turn it back on.
Press the Phone button/icon.
It will prompt a message asking if you want to connect a new device.
Select No and go to Settings.
Select Phone Setup>Bluetooth Setup.
Select Delete Device.
It will show the list of all paired devices. Select one and press Delete.
Repeat the steps for all connected devices.
You can also always check your Honda's user manual for the exact steps.
💡 Remember to also remove all paired devices from your phone. It's very possible that your phone is either connected to or attempting to connect to another Bluetooth audio output device in the vicinity.
Once all the devices are deleted from your phone and Honda, pair and connect your phone to Bluetooth of car to see if it works now.
Clear All Device Data
If even deleting the devices from your infotainment system doesn't help, that means the connection history wasn't deleted yet. For this purpose clear all device data [3].
For this purpose, follow the quick steps below to clear the system completely.
Press the Phone button and select No for the prompt message asking you to connect to the new device.
Click Phone Setup and select System Clear.
Press Yes for confirmation.
Check AVRCP Settings
AVRCP stands for Audio/Video Remote Control Profile. It is a Bluetooth profile that allows remote audio and video control to control the target device. It has several versions ranging from 1.0 to 1.6 [4].
Check your Honda's settings menu to determine which AVRCP version it supports. You can also check your car's user manual or contact customer care to learn more about the supported version.
Once have the version information:
Enable the developer mode by going to the phone's Settings > About Phone
Find the build number on the bottom of the touchscreen and tap on it seven times
Go to your Settings > System > Developer Options
Look for AVRCP using the search feature
Select the Bluetooth AVRCP version that your Honda supports
If you don't know the supported AVRCP version of your car, you can start by selecting the lowest or oldest version and go up to see which version works well with the car.
💡 Please note that the older Honda cars might not be compatible with the newer Bluetooth AVRCP versions, or they might not support the new features of Bluetooth. In that case, also adjusting the AVRCP settings can resolve the Bluetooth connectivity issue.
Reset Honda's Head Unit
Reset the head unit has resolved the problem for Jon and he has demonstrated the steps in the video below
Here are the steps that Jon has prescribed:
Select Settings on the display screen and then go to System > About.
Go down and select Status.
Look at the Uptime. It must be something like 150 hours if you haven't rebooted your infotainment lately. Keep that time in mind.
Now, turn your car Off and put your foot on the brake.
Keep your phone on the brake and start your car.
Immediately put your car in reverse and wait until you see the reverse camera on.
Then put the gear into neutral.
Your head unit will turn on automatically with a disclaimer note. If the Ok option is greyed out for some time, that means you successfully rebooted the system.
If the Ok button isn't greyed out, repeat the steps.
Now again, go to Settings > System > About > Status
Now you can check your Uptime would just have started counting from zero. It shows the restart was successful.
Update the Software
Ensure that your car's and the phone's software is up to date. Connection issues are sometimes fixed with software update.
To update the Honda's system software, perform the steps below:
Connect your car to Wi-Fi by going to Settings > Connection > Wi-Fi
Next, go to the main menu and select System Update
If the update is available, it will automatically start downloading.
Once the download completes, click on Install.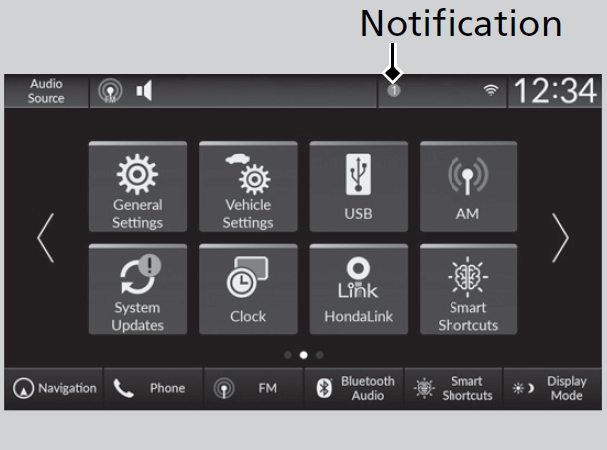 Perform a Factory Reset
Performing a factory reset will remove all the settings and bring your infotainment back to the default settings. To perform the factory reset in Honda:
Click Settings > System > Factory Data Reset.
Click Yes and wait until the system performs the factory reset and reboots your system.
Hard Reset The Bluetooth Connection
You can always perform a hard reset for your Honda's Bluetooth audio system to resolve the connectivity issue [2]. For this purpose:
Delete your phone from your car
Disconnect your car's battery terminals
Wait ten minutes
Reconnect them and let the audio system boot up
Meanwhile, delete the car from your phone. Please note that the connection name for Honda in the Bluetooth list is Handsfreelink
Start fresh by connecting your phone to the car.
Phone Compatibility
At the time of writing this article, the latest version of Bluetooth is 5.4. It's an upgrade from previous versions with advances in data transfer speeds, security, fidelity and more.
Your phone might have this newest version, whereas your car (depending on when it was purchased) might have an older Bluetooth versions, 4.2 for example.
One reason for older Bluetooth versions in cars is that they have longer development cycles, and it's likely that at the time of design, Bluetooth 5.0 wasn't introduced yet.
Honda has provided a tool on their website that allows you to check compatibility of your phone with different vehicle models. However it doesn't cover all phones.
Honda has not provided any specifics on Bluetooth version, so it's not that easy to check whether your phone will be compatible.
There's a chance then that newer phone models might face Bluetooth connectivity issue with your Honda.
Other Solutions
If you have tried all the troubleshooting tips on this list and have not been able to get connected, a quick solution might be to buy a Bluetooth adapter for your car.
As shown in the picture above, it plugs into your AUX port. Your phone can connect to it over Bluetooth and you'll be up and running in no time. This particular adapter has BT 5.0 technology which means it's compatible with the latest and greatest phones.
Further Reading
[1] Interference issues were experienced by 2019 Honda Insight and Honda Accord as discussed in this Reddit thread.
[2] Honda tech explains how to reset the computer in the Honda's infotainment system for a Honda Accord.
[3] Deleting connected device data worked for this Honda owner
[4] Quora post on AVRCP versions