The G915 is an amazing keyboard. Every now and then however, I have to deal with the occasional issue. This time it was the volume scroll wheel – it stopped working.
In this post I summarize all my research and possible fixes for this problem. Without further ado, let's get into it
Power Off and On
The simplest fix is to turn the power switch Off. Wait for a couple of minutes and turn it back On.
This resolves the problem in many situations.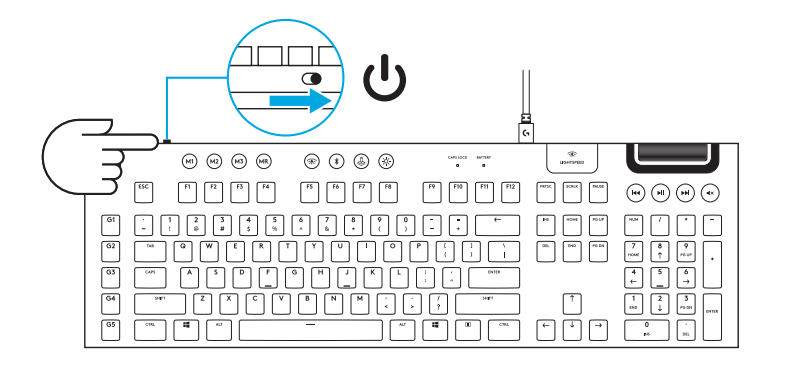 Windows 10 Fix
Make sure "Human Interface Device Service" is running. To do this try the following:
Windows key + R,
Type "services.msc"
Enable "Human Interface Device Service"
Uninstall GHUB
The Ghub software has been known to cause many issues. Try the following steps:
Uninstall G HUB
Navigate to C:\Users\(username)\AppData\Roaming and delete the LGHUB folder
Navigate to C:\ProgramData and delete the LGHUB folder.
Reboot your machine
Try using the volume wheel. Did this fix the issue? If so then we know that the G HUB software was causing some sort of conflict.
If it didn't resolve the issue you can reinstall G Hub. If it solved the issue try downloading the latest version of G Hub and see if the problem recurs.
Receiver Conflict
Are you using two Logitech Lightspeed devices at the same time? For instance a Lightspeed mouse and the G915? If so, then you probably have two USB dongles plugged into the PC.
Unplug the dongle associated with the mouse (safely) and reboot your PC. This will likely resolve the issue as there have been reports of Lightspeed dongle conflict.
Summary
In this post we listed various solutions for the problem of G915 volume wheel not working.
Here is the list:
Power Off and On
Windows 10 fix
Uninstall G Hub
Receiver conflict
Let us know if you've tried these and still have an issue. We can look into it for you.
References
[1] G915 User Manual