My brother is a huge gamer – after work, he spends countless hours in front of his PC. For him, sound quality plays a huge role in his enjoyment of video games.
For years, he's been a huge fan of his Steelseries Arctis Nova 7 Bluetooth headset, but recently he's been having some connection issues. When he told me about this, I committed myself to learning more about his headphones. I have compiled some quick and effective solutions to help you seamlessly solve your connection issues once and for all.
Let's begin!
Initial Troubleshooting Guide
Turn your Arctis Nova headset on and press the Bluetooth button (#9 below) for at least 8 seconds. Many people don't press the Bluetooth button for long enough, as they mistake the initial flashing light for Pairing Mode.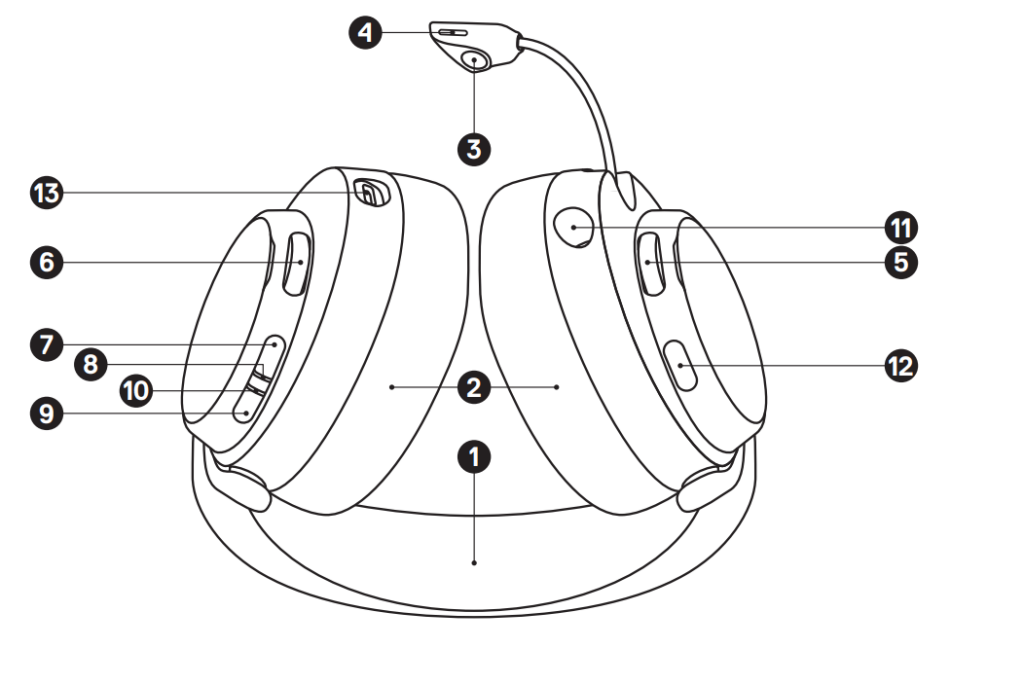 When your headset is successfully in Pairing Mode, the light will be blinking faster than normal, and you will hear a second audio prompt. You will be able to find your headset in your device's Bluetooth list and will be able to pair successfully.
Another solution to this problem may be as simple as disconnecting and reconnecting your headset. Resetting the Bluetooth connection is a simple and quick fix to many of these types of connection issues!
Finally, you may have to update the headset firmware out of the box. For users who are connecting their Arctis Nova 7/7x/7p headsets to a PC, this firmware update is more likely to be necessary. To perform the firmware update, download and install the latest version of SteelSeries GG software. Follow the prompts provided to update the firmware if necessary.
Disconnect from Mobile Devices
Problem:
You've connected your Arctis Nova 7 headset to your phone, but you cannot connect your Arctis Nova 7 to your PC; alternatively, you've successfully connected your headset to the PC but can't hear any audio.
Solution:
If this is the case, please mind your order of pairing. If your headset is already connected to your phone through Bluetooth, un-pair it. You must also ensure that the headphones are removed from your PC's connected devices for this to work.
Now, pair your headset with the PC first. Once they connect and start working with your PC, connect them to any mobile device of your choice.
Bluetooth Won't Connect to Windows
Problem:
Your Arctis Nova headset connects to your computer via the 2.4 GHz base, your phone, and maybe even your Macbook just fine, but it refuses to connect properly to your Windows PC as it seems to not be registering as an audio device.
Solution:
The key to solving this specific issue lies in having your base station plugged into the PC while you connect to Bluetooth for the first time, meaning you must forget the headset before trying this. A key step in resetting the connection between your headset and computer is to go into Device Manager and remove existing Bluetooth drivers.
After this, you can reconnect the headset to your PC. Start by connecting the base station to the PC (not the headset) and re-pair the headset over Bluetooth. This should fix your problem, as you do not have to keep the base station connected after the initial pairing. Now you should be able to seamlessly connect your Arctis headset to your Windows computer.
Reddit thread that discusses this solution
Hard Reset Your Arctis Nova Headset
Problem:
Your headset's Pairing Mode is stuck, preventing you from connecting anything to it. Regardless of how long you hold down the button for, it is unresponsive.
Solution:
The solution to this problem is hard resetting your headset. Remove the cushion of the right ear cup and underneath, you will see a small hole. You will need to insert a paper clip into the hole and press for 3 seconds. This reset is a convenient and simple way to solve the problem you are facing.
Reddit thread that discusses this solution
Summary
In this article, we've covered basic troubleshooting tips, updating firmware, hard resets and more. With these simple steps, you can easily troubleshoot any Bluetooth pairing issues with your Arctis Nova 7/7x/7p headset. I hope these common fixes will help you on your way to enjoying content with a seamlessly paired headset!
Related Troubleshooting Posts