Use this tool to match amplifier/amp specifications with your subwoofer. It can be used to select an amplifier for an existing set of subs or an entire system.
How to use the calculator
Enter the impedance in ohm (Ω) and the wattage (W) of each sub.
Select the configuration – Series or Parallel.
The tool will provide

Total Effective Impedance of the subs
Total Subwoofer Wattage
Required Amplifier Wattage range (min and max)

Refer to the amplifier data sheet to ensure that it is able to provide the RMS (root-mean-square) power at the specified impedance level.
Example Calculation
Let's use the following subwoofer from Sklar as an example. It has an RMS power rating of 1000 W and impedance of 2 ohm.
This is a Dual Voltage Coil subwoofer. Depending on how it is wired (see the picture below), the effective impedance is either 1 ohm or 4 ohm.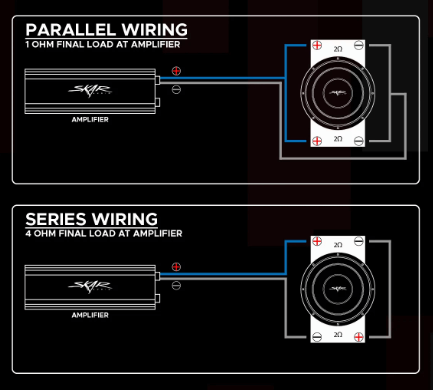 Assume it's wired to give an effective impedance of 4 ohm, and two of these are used in parallel. In this case, using the calculator, the total effective resistance is 2 Ω and the recommended amplifier wattage is between 1800 W and 2400 W.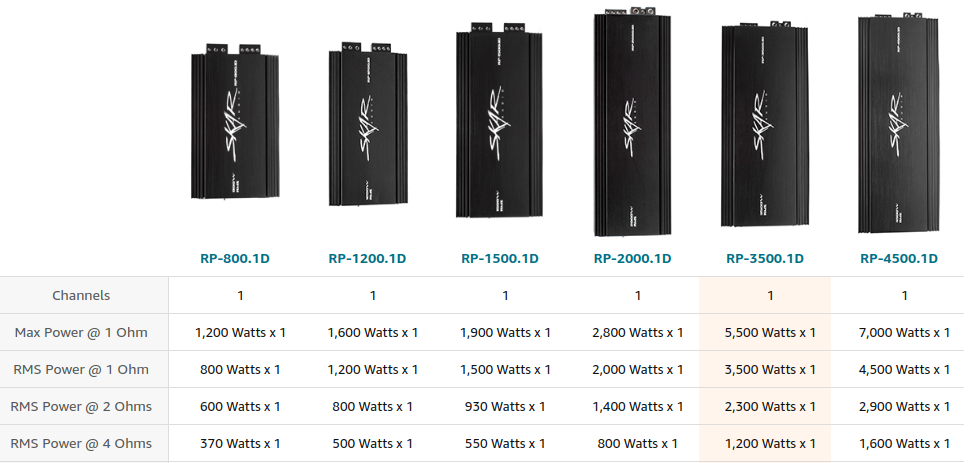 The highlighted amplifier RP-3500.1D would be the most appropriate selection in this case. The specification of this amp is 2300 W at 2 Ω.
Related Calculators